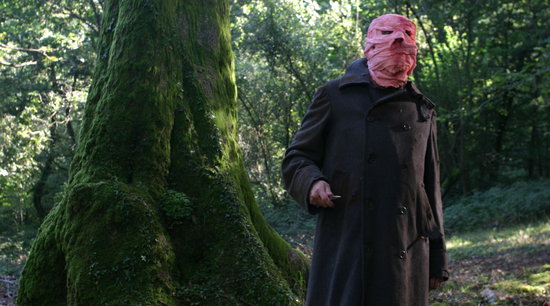 [xrr rating=4/5]
Directed By: Nacho Vigalondo
Starring: Karra Elejalde, Candela Fernández, Nacho Vigalondo
Plot Synopsis:
Lauded short film director Nacho Vigalondo makes his feature debut with this tense, unstoppable vision of science and natural law gone awry.
Hector (Karra Elejalde) is relaxing on a lawn chair outside of his new country home, surveying the nearby hillside through a pair of binoculars, when he catches sight of what appears to be a nude woman amidst the trees. Hiking up to investigate, he is attacked by a sinister figure whose head is wrapped in a grotesque, pink bandage.
Fleeing in terror, he takes refuge in a laboratory atop the hill, where a lone attendant (director Nacho Vigalondo) ushers him in to a peculiar scientific contraption. He emerges what seems to be moments later, only to find that he has traveled back hours in time, setting in motion a brain-twisting, horrifying chain of events. [Trailer Addict]
Review:
Timecrimes is one of those films that is best viewed when you don't know anything about the film.  Avoid the trailer on this one! All I knew was that it was a mystery, thriller involving some sort of time travel.  If you go into the film like this, you'll have a blast with this mind bending puzzle of a thriller.
Ultra low budget movies are hit or miss.  Timecrimes is one of the few micro budget movies that works on almost every level.  This is Science Fiction without the special effects, and that's what gives Timecrimes a huge amount of charm.
The plot is basically a thriller and mystery.  As you discover things along with the main character, you get sucked into the story.  It's a lot of fun seeing the puzzle pieces being put together in front of you.
That's pretty much all I want to say about this.  See it.  You'll love it.
In fact, Timecrimes would make for an excellent Double Feature evening with [REC].  Both films are under 90 minutes and never dull.